As a brand at the forefront of the last great British Indie music scene, we know a thing or two about what makes a special band.
Whether it's a super-charged, energetic party song or a lowkey, melodic ballad, there is something about British Indie music that feels ever-present and effervescent. Scottish band Vistas encapsulate this perfectly and we're very big fans.
So, with a full festival season and support slots with Jake Bugg and The Wombats around the corner, we thought it was high time to get to know Vistas.
We caught up with their frontman, Prentice Robertson, to find out about their influences, which artists he considers the best dressed, and what his mastermind subject would be…
How did Vistas meet?
"We all met in high school and had been playing in different bands. I was in a band with Jamie (Law, bassist) and a different band with Dylan (Rush, guitarist). Once we left school, we merged those bands to form Vistas and we really tried to make a thing of it."
For Prentice, the band was all he ever wanted to do. "We've always had the mindset to not have a plan B and just treat Vistas as plan A".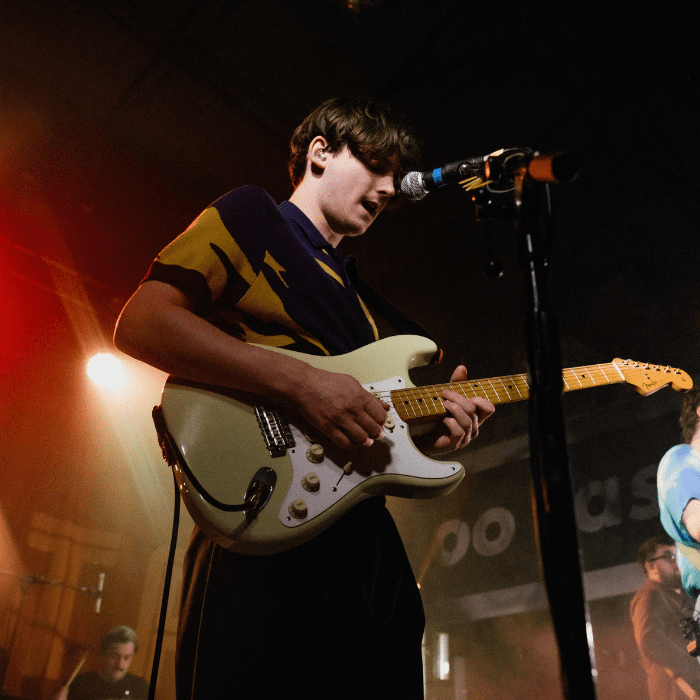 How did Vistas get their name?
The band's name, Prentice says, was inspired by someone saying that "good bands have two-syllable names because they're easy to chant at gigs". This led the band to search for "cool two-syllable words", with Vistas being the best fit.
Which bands are Vistas influenced by?
Vistas grew up listening to bands like Kings of Leon, Two Door Cinema Club and The Strokes. The influences of these bands course through Vista's latest album 'What Were You Hoping to Find?', with the title song being driven by an anthemic chorus that contrasts perfectly with a honeyed bridge.
More recently, the band have been listening to bands like The National and Gang of Youths, whose darker, more emotive sound is reminiscent of Vistas' 'Some Are Not Meant to Belong'.
The band's artistic license isn't limited to their musical output. Prentice is interested in musical direction for live shows and the band's videos are must-see too. The video for 'Sucker', for example, features Martin Trenaman (best known for playing Simon's dad in The Inbetweeners). Robertson named Joseph Gilgun, Kelly MacDonald, Daniel Kaluuya, and Jamie Demetriou as actors he'd like to work with in future music videos.
Prentice also told us his specialist subject on Mastermind would be The Office (US). We love the idea of Rainn Wilson (Dwight Schrute) appearing in a future Vistas video, and the marriage of beets and beats is too good to pass up…
Talking fashion with Vistas
Our appreciation of Vistas is reciprocated –  the band are big fans of Lyle & Scott, so we couldn't let Prentice go without talking fashion.
With fashion and indie music being so intrinsically linked, we had to ask about the best-dressed acts in music: "It's hard to see past Blossoms. Even when they're just kicking about, they dress really well. Liam Gallagher's coats are iconic too."
Vistas' own look is inspired by Orlando Weeks (The Maccabees), whose thrifted streetwear and workwear outfits are an elevated version of indie fashion staples, like slim-fit jeans, overshirts, and understated plaid and check shirts.
Prentice also expressed his love for what we do, explaining: "Lyle & Scott was always a prominent brand for us growing up and the logo is so iconic and instantly recognisable. I really love the collaborations with Oi Polloi and Lovers FC. I wear my Lovers polo shirts all the time!"
How to dress like Vistas
Vistas retro-influenced indie look centres around vintage shirts and T-shirts, with timeless pieces, like chinos and jeans, workwear-inspired jackets, and even some knitwear, like cardigans, thrown in for good measure.