To celebrate this year's International Women's Day, we took a trip to Lewes FC and spoke to four of their top female players about how they got into the beautiful game, why they choose to play at Lewes FC and their ambitions for the final few weeks of the season.
We were inspired to work with Lewes FC at the end of 2020 because of their Equality FC initiative, whereby their men's and women's teams are given equal pay and equal resources – a revolutionary and globally unique approach in an industry that is still dominated by the male-only game.
Lewes FC – a community club
After being given a tour of the Dripping Pan by club CEO Maggie Murphy, it quickly becomes clear that this inclusive, community-oriented approach reaches far beyond the players. Every aspect of the club is designed to keep the local community engaged, safe, and supported. For example, Maggie showed the newly established community garden and explains that it was started by one of the male players, an ex-lawyer with a passion for food security and sustainability. The long-term plan is that any food grown in the garden will be donated to local food banks and families in need to ensure that no one goes hungry.
It doesn't stop there. There's a ban on sponsors and all advertising that has anything to do with the gambling industry – this is a fan-owned club, and those fans don't want their friends and family to be drawn into addiction through their love for the game. Pitchside, there's a dedicated family zone, where parents can still enjoy the game whilst younger children have the extra space they need to play. The Supporters Club is also looking to invest in live audio descriptions for every match so that no one is excluded from enjoying the game on grounds of physical impairment. This is a club built by its fans, for its fans.
Meeting the Lewes FC players
We started our shoot with four of the club's most exciting female players – Lucy Ashworth-Clifford (Winger), Kallie Balfour (Winger), Izzy Dalton (Centre Midfield), and Ini Umotong (Striker). Between shots, we managed to catch up with each of the players. we asked about how they ended up being such highflyers in women's football, what brought them to Lewes FC, and how the club's values aligned with those of International Women's Day.
All the girls' stories start in a similar way – playing with their families and friends. Lucy got her start by passing a ball around in the garden with her nan, 'a pretty cheap option' for entertaining a high-energy seven-year-old. Izzy and Kallie both cite playing with their male family members, with Kallie citing her 'tomboy' nature for getting her into the game – further proof that women remain the exception, rather than the rule, when it comes to professional football. Ini's story was – like her club – all about community: everyone in her neighbourhood played football, and every summer the area would host its own "World Cup" tournament, where each street would put together a team and represent a different nation – 'it was my favourite time of year'.
The journey to Lewes FC
Despite their wholesome beginnings, every one of the players has overcome significant obstacles to get where they are today. Kallie is recovering from a long-term injury after tearing her patellar tendon which brought her season to a quick and unexpected close, Lucy is working through the complex feelings that come from losing your spot in the starting line-up, and – whilst playing at university-level in the USA – Izzy found herself sidelined by a coach who wasn't a fan of her style of play (more fool them, we say!). As hard as these have been to overcome, you could rightly argue that they come with the territory of wanting to be an elite sports player. Ini, on the other hand, had obstacles closer to home: 'my family are first-generation Nigerian immigrants', which came with a lot of pressure on her to succeed in a more conventional profession. With humility, she says 'pressure is a privilege' and that it forced her to work harder than ever. After her parents flew to Canada to see her represent Nigeria in the 2015 World Cup in front of fifty thousand spectators, they were quickly won around to women's football…
What all the girls agree on is that these hardships were worth every second to end up where they are today, playing full-time at Lewes FC. It's abundantly clear that there is a fantastic bond between the girls on the pitch: Lucy took trials with bigger clubs in higher leagues, but immediately found that the atmosphere at Lewes was remarkably different, there were 'no cliques, everyone's so positive, everyone's best mates'. The animosity, jealousy, or bitterness that she had experienced at other clubs was nowhere to be seen; everyone is 'just so happy to be playing'.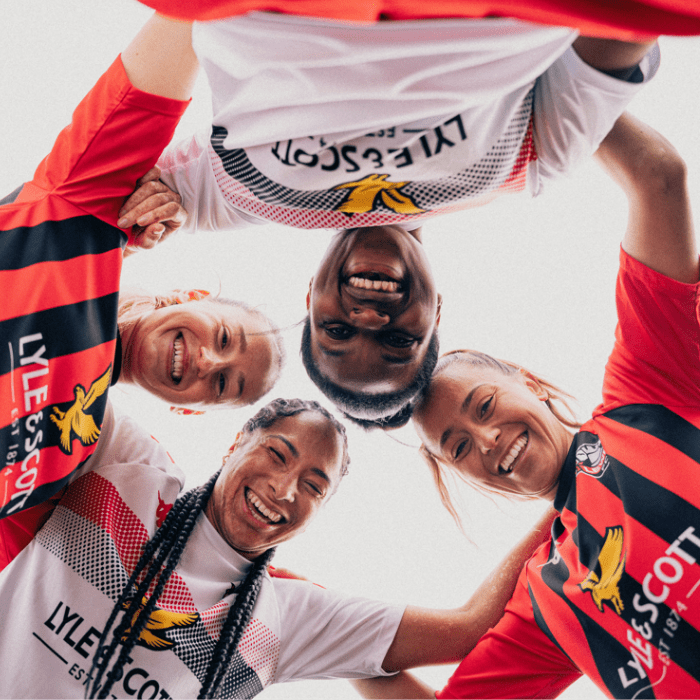 Planning for the future with Lewes FC
But this level of comradery and support extends far beyond the touchlines, particularly when it comes to life after football. When picking a club, it's easy to focus on how clubs are doing in the tables, but Izzy says it was the outside factors that made her come to Lewes, the fact that Lewes genuinely is 'much more than just a football club'. This is particularly poignant for the female players who – in the current climate – won't have the same financial security when their playing careers come to an end that their male counterparts at other clubs might have.
This is why Lewes FC ensures that all their female players have opportunities to develop themselves and their CVs outside of playing. It constitutes a crucial part of Lewes FC's mission to #BreaktheBias, this year's campaign for International Women's Day. Izzy coaches the development squad and Lucy – whose degree is in nutrition and dietetics – has helped the younger squads fine-tune their diets. Ini works part-time to support the club's partnerships and sponsorships – 'I've been in the women's game so long that I want to be part of its sustainability and growth.' Kallie, who's reluctant to return to her accountancy training, knows the club will support her dream of moving into punditry and broadcasting.
Ending the season on a high note
Our final moments with the players were spent discussing the remainder of the season. Izzy says it's an exciting part of the season, 'anyone can beat anyone, we've got seven games left where we can pick up points off top teams'. Kallie will be focusing on her rehab and supporting the rest of the team, while Ini confesses that she would like the team to be higher up the table than they currently are, but knows the team 'are building, and building sustainably is the most important thing'. Lucy sums up the attitude of the entire team best by saying: 'I'm just going to play and enjoy playing, that's all that matters.'
'It's a very tight community here' says Kallie, as we walk back towards the rest of the group. When asked if she means the team, the club, or the town, she says 'it's all of them'. The dream for Ini is for 'other clubs to look at Lewes as a model' this International Women's Day. Once again, Lucy encapsulates the overall mood: she joined Lewes FC after graduating, and 'has never looked back…not once'.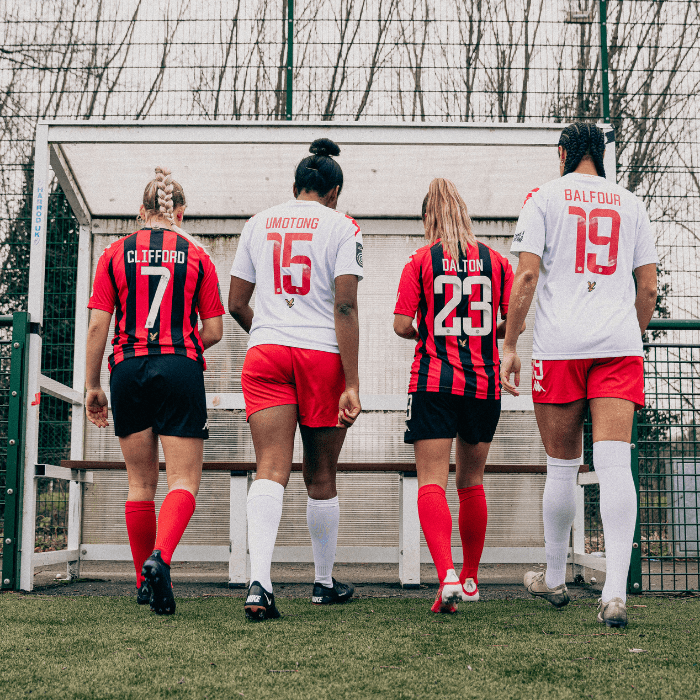 Discover more about Lewes FC, our relationship with them, and their Equality FC initiative in our Everything You Need to Know About Lewes FC blog.

Explore the history of Lewes FC's men's and women's teams and their Equality FC initiative.
Be part of the movement this International Women's Day: follow the official hashtag #breakthebias on Twitter and Instagram for additional content from supporting IWD partners.