Having started out making high-quality underwear in the mid-late 19th century, it's safe to say we've come a long way from the brand you see today…
With over 140 years' commitment to making premium knitwear and clothing, we've attracted our fair share of attention, participating in a who's who of brand collaborations.
Christian Dior, Michael Kors and Junya Watanabe are just some of the names who've used Lyle & Scott fabrics or taken their chance to work with us.
Without further ado, here are some of our most iconic collaborations from the last 140 years…
Lyle & Scott x Christian Dior
One of our first and most iconic collaborations was with the French fashion house Christian Dior in 1954.
Our prowess and reputation for creating premium knitwear grabbed the attention of Dior, leading our then managing director, Charles Oliver, to negotiate a cashmere collaboration with the French fashion legend.
The collaboration consisted of several women's pure cashmere sweaters and cardigans, the quality of the pieces speak for themselves –
Dior commented on the collaboration saying: "Good taste in dress has an international language of its own and although Mr Oliver and I have mystified each other with our respective accents, I am proud to be associated with a venture which, undoubtedly, will make an added contribution to the export trade of your country.1"
Not only did the collaboration contribute to the export trade of Scotland, but proved that well-crafted fabrics and clothing can transcend any language barrier…
Lyle & Scott x Michael Kors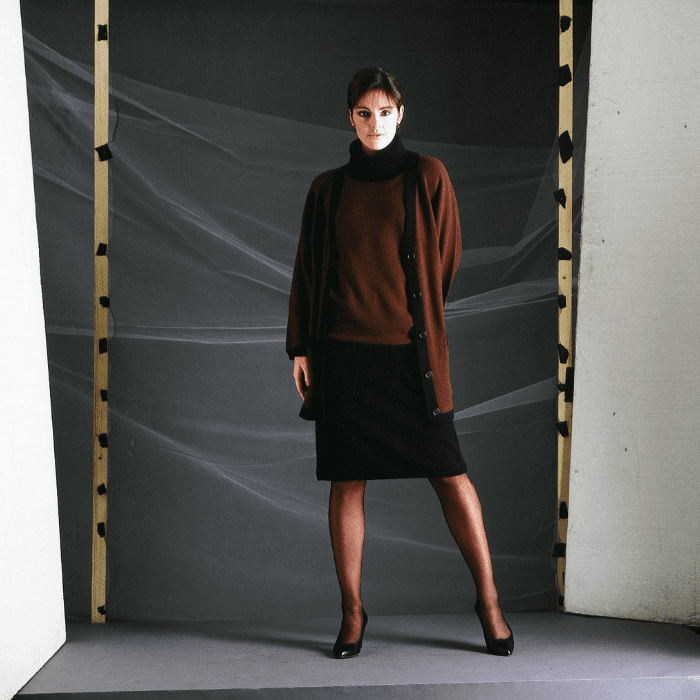 Like Dior, our work with Michael Kors sought to maximise the potential of the high-quality knitwear we're so famous for.
Taking place more than 30 years after the Dior partnership in 1987, our brand collaboration with Michael Kors consisted of 100% cashmere pieces, including tunics, rib-knit skirts and pirate pants.
These pieces, much like the Dior collaboration, have more than stood the test of time with the revered collaboration still respected by lovers of vintage fashion.
Lyle & Scott x Junya Watanabe
Junya Watanabe is a modern fashion phenomenon. Honing his craft at the Japanese fashion house Comme des Garçons, Watanabe has gone on to collaborate with some of the world's most revered brands, including ourselves.
Although Watanabe was recently immortalised by Ye (FKA Kanye West), who named a song after the designer, we were working with Junya before it was cool…
Our 2012 collaborations with Watanabe through the Comme des Garcon MAN offshoot saw him take on our classic polo shirt silhouette. The spring summer collaboration used bold patchwork structures and matched the Golden Eagle branding to the polo shirt's colour, while the autumn winter collaboration consisted of more traditional pieces that featured an embroidered logo (our initials, not the Golden Eagle) and Mother of Pearl buttons – paying homage to the quintessential Lyle & Scott polo shirt.
Lyle & Scott x Universal Works
Nottingham-based Universal Works are one of Britain's most popular workwear companies. Since launching in 2009, the brand has gone from strength to strength.
Our brand collaboration was influenced by Universal Works' founder David Keyte and his immersion in the casuals movement of the early '80s. Keyte described the collaboration as a rekindling of his love for our knitwear…
"Many years ago, as a young man watching football and dressing in the best clothing I could afford, I wanted to wear the best knitwear I could get and looked longingly at the classic Lyle & Scott knits…I was delighted to re-live that early love of the brand.2"
The joint effort consisted of a knitted bomber jacket and flannel shirts with knitted collars. The pieces were adorned with a combined argyle snowflake print to pay homage to our Scottish roots and celebrate our use of snowflake patterning in the early '80s.
Lyle & Scott x Lover's FC
Lover's FC's mission to empower and unite football fans resonates with us deeply. This mutual love of football and the culture around it led us to celebrate the beautiful game via some historic football kits.
The first capsule, 'Memories Are Made', which launched in early 2020, saw a fresh interpretation of iconic football kits utilising our knitwear prowess. Another factor that made this collaboration special was their extremely limited availability.
Lover's FC founder, Neal Heard, explained why we were the perfect fit to collaborate on the project: "[I was] one of the original 80's terrace dwellers, the Football Casuals, and we were mad on our Lyle and Scott knitwear; so when I decided to put my idea of turning classic kits into knitwear I thought, why not approach the best? True to their reputation, L&S brought their own exacting standards and attention to details to the collection.3"
Lyle & Scott x Oi Polloi
We'd long been admirers of Manchester's menswear mecca, Oi Polloi, before our first collaboration in late 2020. Again, this partnership was born out of a shared appreciation of all things knitwear, whether that be Kurt Cobain's thrift-store stylings or our history in creating premium golfwear.
Our capsules centre around premium mohair cardigans, which celebrated our golfing heritage and allowed Oi Polloi to add their own cultural references. The cardigans also paid tribute to our Christian Dior collaboration, as they featured minimal branding on the buttons.
Oi Polloi founder, Steve Sanderson, mused: "We wanted to bring together Lyle & Scott's rich history with our perspective on the cultural history of reappropriation—referencing cardigan-wearing cultural icons through the decades. There was Hockney in the '60s… Lydon in the '70s… Cobain in the '90s.4"
What's next?
There is one common thread that links each of our brand collaborations together. These world-renowned brands and iconic designers recognise and empathise with our commitment to making exceptional knitwear that's made to last for years, not seasons.
Discover The History of Lyle & Scott, including when we launched our iconic Golden Eagle logo and the inspiration behind it below.
For style advice and inspiration, guidance on how to get into sports, and music content relating to iconic bands and up and coming acts, head to the Lyle & Scott blog.

Discover the story of our Golden Eagle logo and learn more about the history of Lyle & Scott.
Lyle & Scott do not claim ownership of any images unless otherwise stated.